21
« on: December 22, 2012, 04:05:22 pm »
Hello everyone!
I'm here with another two lovely little projects.
The first one is the European Font Facelift, used with HoRRoR's wondrous Square Enix Remakes Font Editor. To be blunt, the menu font used in the EU releases of Final Fantasy V Advance and Final Fantasy VI Advance is really, really gross. I don't mean how thin they are, that's understandable. I'm talking about how they didn't bother to resize some of the characters. Bleugh. So I made this! There's also one that slightly expands the font, taking inspiration from the US release, but as a downside makes the menu suffer from various spillover issues in the German, French, Italian, and Spanish localizations.
Click here
to download vivify93's Final Fantasy VI Advance Font Facelift, v0.1a. Alternatively,
here
is a link to the RHDN entry for v0.1.
Screenshots: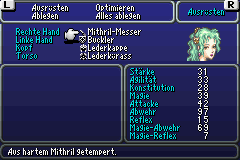 The edited slim menu font. This is also the music player font.
The expanded menu font. Cute, isn't it? Note the new numbers.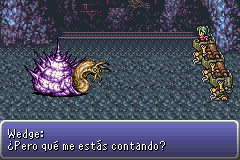 Showing off how I also slightly edited the dialogue font.
---
The other is the Graphics Reverter. They were trying to get that E10+ rating, and the edit jobs actually look a lot better than the SNES version's, but we are grown men and women and want our hardcore pixel nudity, dammit! So I hunted through the US and European ROMs and I found the esper Siren and the boss Chadarnook's graphics and replaced them with the Japanese version's. The scene where Locke first meets Celes has
not
been restored.
Click here
to download vivify93's Final Fantasy VI Advance Graphics Reverter, v0.2. Alternatively,
here
is the link to the RHDN entry.
Screenshots: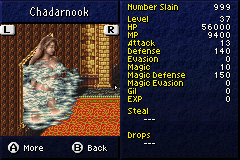 Oh no, a bare stomach and some cleavage! Think of the children!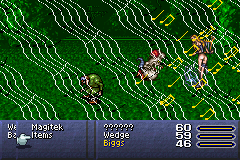 Personally I'd be happier about restoring Siren if she were male.
I have submitted these to RHDN's database, though the Font Facelift has since been updated.
Please enjoy, let me know if there are any issues that need to be fixed or improvements that could be made, and have a lovely day!
Happy Holidays!