1
« on: April 02, 2018, 04:23:14 pm »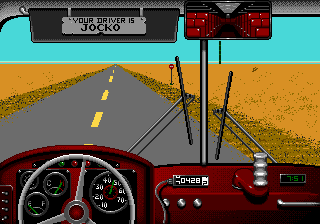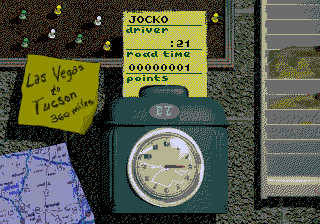 It's Desert Bus, except the bus goes 1,000 miles an hour. Honestly, what more could you want?
Download patch (v0)
Gameplay video which explains things a lot better than screenshots
You've driven the desert route so many times you've lost count. Tucson to Vegas -- eight hours there, eight hours back -- at the wheel of that silent, empty bus, year after year after year. It's a pitiful, meaningless, hellish existence.

No more! Scraping together every last scrap of your savings, you've made a few little modifications to your bus. You've rebuilt it. Faster. Faster. And... uh, faster. Quite possibly a little too fast, if those flashing lights behind you are anything to go by. And you still couldn't figure out how to fix that damn right drift, or find some tires with enough traction to get you out of a ditch.

But who cares? You've on duty today, and this time it's going to be a whole new kind of "hell on wheels"...
Desert Bus is a notoriously easy game. Even its most diehard fans will admit that once you get the hang of the mechanics and look past the eye candy, it's a very rote and by-the-numbers experience. I've therefore carefully designed this patch to provide a fresh and more challenging experience for the advanced user, while hopefully retaining some degree of accessibility for newcomers.
Features:
* The bus goes ~21 times faster
* That's about it
Personally, I think these simple changes reveal a previously unexplored depth to the "right pull" mechanic that just isn't available in the base game. I'd love to get feedback from the more dedicated players on possible improvements, though, so let me know if you have any requests.
Spoiler:
Yeah, sorry, I know I'm a day late. For some reason I always wait until April 1st to get an idea that's dumb enough for the occasion.
Spoiler: