21
« on: December 16, 2012, 03:42:59 pm »
Am I the only one that would like another 8-bit style Castlevania?
With two official 8-bit styled Megaman games and one soon-to-be-official indie game, I'm left wondering how come Konami hasn't tried the same with Castlevania. My first instinct would be to want a new Castlevania 3 style game, but then I thought... since both games are direct sequels, why not combine Castlevania 1 and 2 into one game with even more content?
Bear with me here.
Imagine you boot the game and you start Castlevania 1 normally. You can ideally go through the game as usual, beat it and not be any wiser (such as initially not knowing about the inverted castle in SotN). But in the first stage is where the secret lies.
Remember how
Dracula's castle in Castlevania 2 matched the castle entrance in Castlevania 1
? Now imagine that you are able to uncover that altar room the same way you do in Castlevania 2 (holy water) and through there is where you trigger more stages or maybe an alternative route that uses
the level design from the MSX Castlevania
.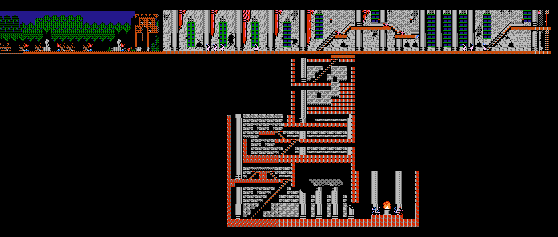 Full image here
But wait, there's more!
Now that you know about the altar room from CV2 is there, how about the rest of Transylvania?
Remember Castlevania's intro
? Why not turn left at the entrance outside the castle, head towards that gate and walk to the still active town of Ghulash...

Full image here
..and buy something for the item screen you didn't know you had by secretly pressing Start and then Select?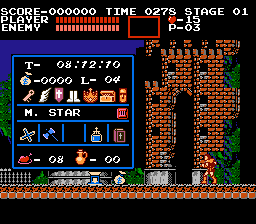 Now, at this point you'll have to beat Castlevania 1 to trigger the curse and be able to enjoy the rest of Transylvania. With a fixed Castlevania 2, having proper hints, a more logical-connected map design and new areas.
But alas, it will only be a dream. Unless TOM steals this idea. Which in this case, he has all my support.