1
« on: November 08, 2014, 01:04:31 pm »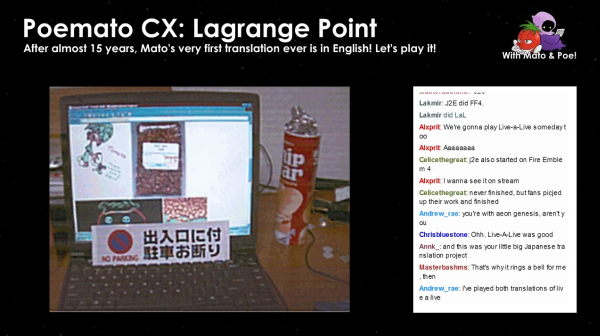 A couple months ago I took the plunge into streaming games on Twitch, mostly
translating Japanese-only games live
, playing
amazing Japanese-only ROM hacks
, and stuff like that.
Anyway, last night I started playing Lagrange Point - the very first thing I ever, ever translated - and included and started off with an explanation of my history with it, how I got into ROM hacking/translation, and how it pushed me into my current career. I thought I'd share with fellow RHDNers here:
This got me thinking that it'd maybe be cool to play through all the stuff I've translated in the order that I translated it and share other memories, thoughts, inside info, and stuff like that.
Of course, it'll be a slow, over many weeks/months thing, but if you're interested in this sort of old history and nostalgia, come check it out sometime! A lot of hackers here already drop by regularly (in fact, Gideon Zhi was there last night to save the day and give lots more info!) so I'd love to chat with other ROM dudes too!
As I remember things and as I stream more old stuff, I'll share things here too. And maybe I'll live translate games I always meant to do ROM translations for but don't have the time for anymore