161
« on: July 21, 2012, 02:53:08 am »
Hello once more! It's vivify93 here, back with more text modifying projects! So we all know that a person called Tower Reversed released a full
English translation
for the WonderSwan Color version of
the Final Fantasy Legend
back in 2011. However, I know there are those who dislike
Makaitoushi SaGa
and would prefer to play a prettier piece of
FFL.
That's where I come in!
Based off of Skygor's
Skill Clarity
patch, this not only follows his textual modifications but adds in an important change: putting everything that was once obnoxiously in all caps in rightful proper case. I also replaced the font with the one used in
Final Fantasy Legend II
and happened to fix some typos along the way.
Here is a link to
vivify93's the Final Fantasy Legend Proper-casing patch, v0.1a.
Alternatively,
here's the RHDN entry.
Screenshots: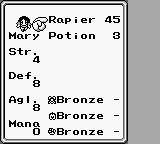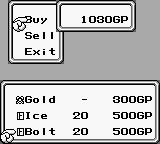 Let me know of any errors or typos, even those from the original game. If you're unsure of what qualifies as an error, send it my way anyway. Hope you enjoy!
I also made a tiny patch for
Final Fantasy Legend II,
but that won't be out until I finish the game. Thanks for reading and have a nice day!